Gallery images are not referencing the forums. The Gallery is a separate database of images. You may upload here or to the Community forums.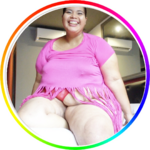 Hi GUYS! 
I'm so EXCITED! VERY SOON I will be able to let you be part of my MASSIVE WEIGHT GAIN JOURNEY!
STARTING AT 300 LBS, I aim to reach 500 LBS!!!
ASS (lol…) you all can see, I already benefit from a BEAUTIFUL PEAR SHAPE BODY!  
Can't weight too see my HIPS, BELLY and ASS get even BIGGER!
STAY TUNED TO MY PROFILE PAGE FOR UPDATES!   
XOXO 
PAULA